Visiting Barber Vintage Motorsports Museum
I drove 2 hours from Atlanta to Birmingham specifically to visit the Barber Vintage Motorsports Museum.
Absolutely worth it!!
I was lucky enough to get a private of the museum when I visited with my wife Torie and our two kids. (Riley 10 & Bella 8) Right off the bat, the entrance to the museum was impressive.  Driving into Barber almost felt like driving into an airport, with the long road with multiple informational signs all the way up to when you get to the physical location of the building.
Cool side note, the Southern Museum of Flight is building a new museum next to Barber and once it opens you'll need to stay at a hotel to visit both because it is possible for Barber to take up your whole day.  We spent a good 3.5 hours at the museum and it really didn't feel like that long and honestly, I could have spent even more time there, but the kids hit their threshold.
Torie and I really liked the large sculptures that were on display in front of the museum and the kids found it hilarious that they didn't have any junk.  There were smaller, still very unique pieces of art on display inside the museum.
The architecture and overall attention to detail of the museum was one of the most impressive museums I've visited thus far.
There are over 280 different brands of motorcycles on display and there is a collection of over 1,400 motorcycles that span over 100 years of production. You do not get to see all 1400 motorcycles since the museum regularly rotates the bikes in and out of 3 warehouses so they can maintain ever motorcycle in the collection and change up displays so the museum looks different each time you visit. There are more than 650 motorcycles on display on any given day and about 200 manufacturers from over 20 different countries.
The Barber Vintage Motorsports Museum is more than just a collection of motorcycles, there are also multiple cars on display, including a Model T pickup, 58 Bel Air, Porsche's and the largest collection of Lotus' in the world. Plus, the track is a destination in its own right.
Did I mention Barber was officially recognized by the Guinness World Records as being the world's largest motorcycle collection?
The Barber Vintage Motorsports Museum exists because of Mr. Barber's passion for motorsports and his philanthropy interest to create the nonprofit museum so people from all over the world can enjoy all the pieces of automotive art on display.
I took a ton of pictures inside the museum and they really do not do it justice.  The pictures are cool, but you really do have to come to see everything in person. Plus you never know who or what you might run into.  I saw an all original Yamaha DT360 like the one I own that belonged to Torie's mother and we ran into Wayne Carini from Chasing Classic Cars.
Barber Vintage Motorsports always seems to have something going on so I'd recommend visiting their website or Facebook Page to see what might be going on and you can plan your trip accordingly.
When you visit look for all the "easter eggs" scattered throughout the complex.  You might see Bigfoot fishing, a police officer walking a tiger, a gigantic spider or a skeleton under the elevator. (may or may not be real 😉
6030 Barber Motorsports Parkway
Leeds, Alabama 35094
P: 205-699-7275
Email: bvmm@barbermuseum.org
Cost: $15 4–12: $10
Plan: 2 hr
Open: 10-6 Mon-Sat 12-6 Sun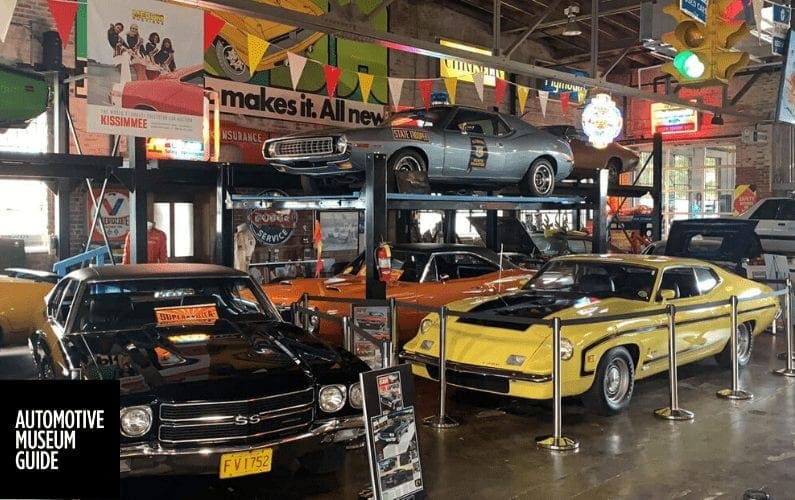 The Wellborn Musclecar Museum is devoted to the great American automobiles of the 1960's and 1970's, showcasing classics such as the Charger, the Roadrunner and the SuperBee, as well as the nation's largest high-performance Dodge collection.
The Mustang Museum of America is dedicated to the celebration, preservation, education, and display of the Ford Mustang.
get updates
Sign up to get updates about automotive museums right to your mailbox. Don't miss a thing. It's FREE.