Wheels Through Time Motorcycle Museum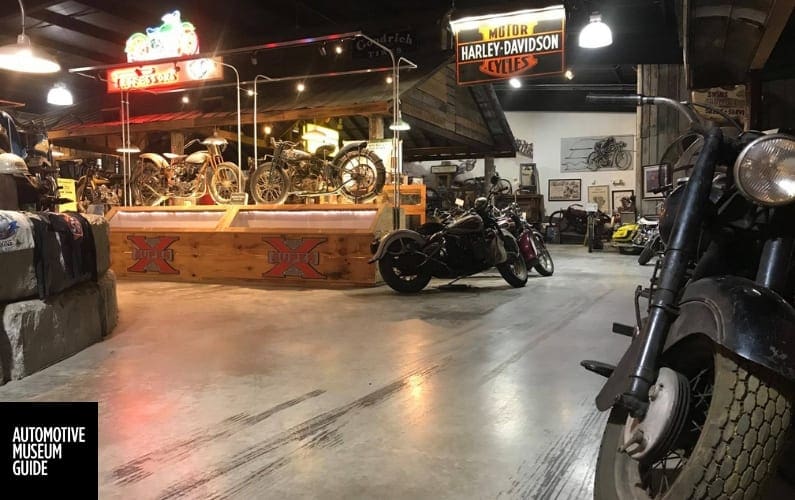 The Wheels Through Time Motorcycle Museum is a 38,000-sq.-ft. museum housing 300+ rare motorcycles, cars, and related exhibits, photos & memorabilia.
The automobile collection is equally as interesting as the two-wheeled marvels.  A pair of '32 roadsters, Packard and Lincoln from the classic era are surrounded by distinctive "one-off" autos such as the 1949 Veritas and the massive 1915 Locomobile built during the gilded age of American history.
The collection was started by Museum Founder Dale Walksler in 1969 in Glen Ellyn, Illinois. In 1977 the collection moved to Mt. Vernon Illinois where it was housed at the Harley-Davidson dealership founded by Dale.  As the collection matured it became obvious the potential for a truly incredible museum was at hand. In 2002, the collection moved to its present location in Maggie Valley, North Carolina. A 501c3 not-for-profit status was attained, and Wheels Through Time was on its way to preserving forever a most unique aspect of our American history.
62 Vintage Ln
Maggie Valley, NC 28751
P: 828-926-6266
Email: info@wheelsthroughtime.com
Admission: $15, 
Seniors $12
6-14yr $7
Plan: 2-3 hr
Open: Thursday – Monday 9am – 5pm (Closed in Winter)
Image via https://www.facebook.com/wheelsthroughtime/photos/a