Discover Kentucky Automotive Museums, Events, and History.
The National Corvette Museum is America's Sports Car… an exciting legend produced only in Bowling Green, Kentucky. The Museum features over 80 Corvettes in periodic settings, including mint classics, one-of-a-kind prototypes, and modern-day wonders of engineering...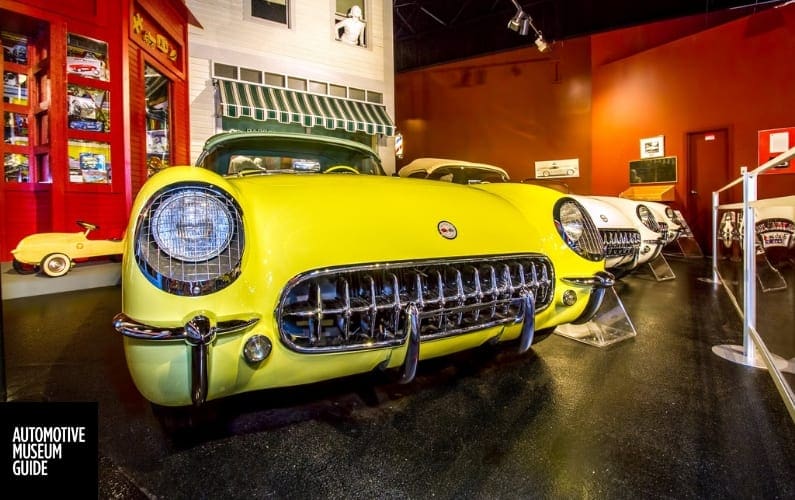 Discover Kentucky Automotive Museums, Events, and History.
KENTUCKY
Kentucky is a southeastern state bounded by the Ohio River in the north and the Appalachian Mountains in the east, with Frankfort the state capital. The state's largest city, Louisville, is home to the Kentucky Derby, the renowned horse race held at Churchill Downs on the first Saturday in May. The race is preceded by a 2-week festival and celebrated in the Kentucky Derby Museum year-round.
AUTOMOTIVE HISTORY
In 1908, the Lexington Motor Car Company was founded in Lexington by Kinzea Stone, a Kentucky racehorse promoter, and began building the Lexington Motor Car. A low, sleek and powerful design for its day, the Lexington proved to be a popular automobile with the public. The Lexington placed first and second in 1920 at the famous Pikes Peak Hill Climb. That year they manufactured 6,000 cars and built 12,000 the following year. The 1922 postwar recession and bad publicity with the company's owner caused sales to drop. The company soon went into receivership and in 1927, the Lexington Motor Company was taken over by the Auburn Automobile Company.
get updates
Sign up to get updates about automotive museums right to your mailbox. Don't miss a thing. It's FREE.